More than 206 million passengers flew to and from the Middle East in 2016, which represented a 9 percent increase from the year prior. This number is expected to rise significantly over the course of the next two decades, according to the International Air Transport Association (IATA). The organization estimates that the total market size will expand to 517 million by 2036.
To accommodate these numbers, the governments of many Middle East countries have launched major airport expansion and development projects. Among Gulf Cooperation Council (GCC) countries alone, there were roughly 95 total ongoing aviation projects worth an estimated $49 billion as of May 2018. Below is a look at some of the most notable airport development projects in four countries across the Middle East.
Kuwait
Kuwait is one of several Middle East countries to reach capacity at its national airports in recent years, and it is also one of the countries most desperately in need of aviation-related infrastructure development. Kuwait International Airport presently serves three times the passenger traffic its original design capacity allows for. As a result, a temporary passenger terminal was constructed as a short-term fix.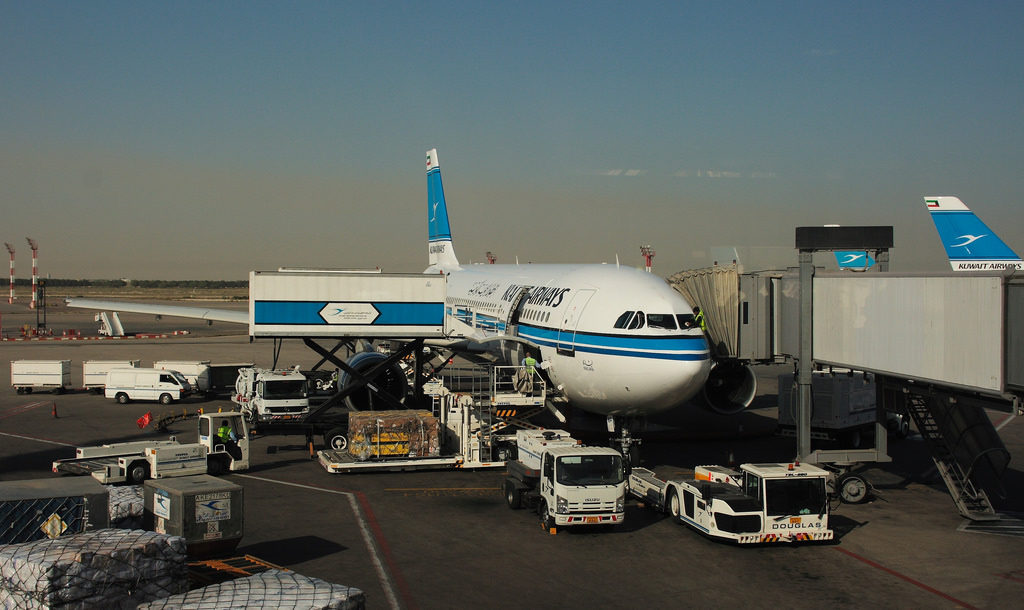 However, the government anticipates the completion of a new, $4.2 billion terminal within the next four years, ahead of the original estimate of six years. As of November 2017, the project was 35 percent complete, according to Abdulrahman Al-Mutawaa, the country's minister of public works. In late June 2018, the government announced it would soon issue tenders for the second phase of the project, which includes the construction of various buildings and a road to the terminal, as well as new parking spaces. The completion of the terminal is expected to boost the airport's capacity to 13 million travelers per year, with further growth anticipated to 25 million.
Dubai
Like Kuwait International Airport, Dubai International Airport is approaching maximum capacity and is expected to overtake Atlanta and Beijing to become the world's busiest airport in the next decade. However, by 2050, another Dubai-based airport, Al Maktoum International Airport, is expected to claim that title. An ongoing, long-term $32.6 billion expansion project is expected to allow the airport to handle more than 220 million passengers per year and ship more than 16 million tonnes of cargo. It currently has the capacity for 7 million passengers and 1 million tonnes of cargo per year.
The first phase of the expansion project is expected to last between six to eight years and include the construction of two satellite buildings and space for as many as 100 A380 aircraft over 56 square kilometers. Once completed, Al Maktoum International Airport will consist of two opposing terminal facilities, four concourses, five parallel runways, and an advanced automated global logistics system with biometrics and smart passenger tracking.
Saudi Arabia
While Al Maktoum International Airport is the most expensive ongoing aviation project in the Middle East, Saudi Arabia is second in the airport project market with a combined $26.4 billion in planned projects. This figure includes the second and third phases of a $20 billion airport development in Riyadh that is expected to increase capacity to 80 million passengers per year by 2035. Another major expansion project in Saudi Arabia involves King Fahd International Airport, which will have a newly constructed terminal with a capacity of 30 million passengers per year, up from 12.6 million, by 2025.
The Kingdom currently boasts 27 airports and four more in development. These ambitious projects are part of the country's Vision 2030, a long-term economic plan to boost the tourism and entertainment sectors and shift away from an over-reliance on oil. Placing an emphasis on the privatization of infrastructure, the government intends that airports in the country will be operated as private companies regulated by soon-to-be-implemented public-private partnership legislation.
"This law will regulate for the first time the role of the private sector in terms of partnering with the public sector," noted ZS&R law firm founding partner Najem Al Zaid to the news outlet Trade Arabia.
Turkey
Expected to be completed in the coming months, Istanbul Grand Airport, the third airport in Turkey's most populous city, is expected to have a capacity of 90 million passengers per year. Further expansions will follow, allowing for 150 million annual passengers by 2023. Turkey's transportation minister Ahmet Arslan recently announced that the airport was 90 percent complete, while the government issued a notice to IATA and the International Civil Aviation Organization stating the airport would officially open on Turkey's Republic Day holiday on October 29, 2018. Turkey's president, Recep Tayyip Erdogan, has stressed that the new airport will be significant to his country's economic growth.
"With the completion of all phases of this project, Turkey, especially Istanbul, will become a global center in world's air traffic," he said in June, speaking to the press. Once the new airport opens, the process of converting the old Ataturk Airport to a public park called People's Garden will begin.