Ehsan Bayat – Afghan Humanitarian and Media Leader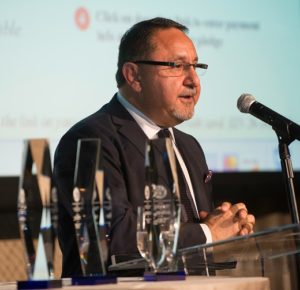 Ehsanollah "Ehsan" Bayat has contributed significantly to his home country of Afghanistan over the course of his life and career. He is the founder of Afghan Wireless Communication Company, the first mobile service company to operate in Afghanistan and currently one of the largest employers in the country, with more than 6,000 direct employees and 100,000 indirect employees. Under the leadership of Ehsan Bayat, Afghan Wireless has grown to serve more than 4 million subscribers across Afghanistan.
In addition to his work with Afghan Wireless, Ehsan Bayat founded Ariana Television and Radio Network (ATN), a large, private media provider, in 2005. Broadcast to 33 of 34 provinces in Afghanistan, ATN reaches more than 25 million Afghan viewers and listeners, as well as Dari and Pashto speakers across the globe. The network covers many different topics, ranging from education and world affairs to health and children's programming. Through its "Window for a Better Tomorrow" program, ATN exposes viewers and listeners to arts and culture from around the world, while promoting the work of local writers, actors, directors, and producers.
For more than a decade, Ehsan Bayat has supported social causes in Afghanistan via the Bayat Foundation, a US-based charitable organization. His philanthropic work focuses on unmet community needs such as maternal and early childhood health. Since 2005, the Bayat Foundation has constructed 13 hospitals to serve these populations, reaching over 1.5 million Afghans as a result.
In 2006, Ehsan Bayat received the National Human Rights Award from the Afghanistan Human Rights Association. The recipient of the 2007 Humanitarian of the Year award from Zeba Magazine, he accepted the 2010 Mahatma Gandhi Humanitarian Award from the Friends of the South Asian American Communities.