More than 90 million passengers traveled to and from Dubai's two international airports—Al-Maktoum International Airport and Dubai International Airport—in 2017. The number is expected to rise significantly in the near future due in part to the continued expansion of Al-Maktoum International. Here are a few important things you need to know in regards to Al-Maktoum International and its development.
World's Busiest Airport
While Al-Maktoum International is expected to become the world's busiest airport in terms of international traffic after expansion efforts are completed, Dubai is already home to an airport with that distinction. Dubai International Airport, out of which the state-owned Emirates Airline operates, is currently the world's busiest airport for international travel.
In a sign of the importance that the government is placing on the expansion of Al-Maktoum International, Emirates Airline is expected to move to the new airport by 2025.
Current Status
Located on the edge of Dubai near the Abu Dhabi border, Al-Maktoum International began cargo operations on June 27, 2010. Three years later, Wizz Air undertook the first passenger flight out of the airport. Jazeera Airways and Gulf Air followed suit soon afterward. This was a major step in the project's first phase, which includes plans for a cargo terminal building that can accommodate up to 1 million tons, a single A380 compatible runway, and a passenger terminal that can accommodate up to 5 million passengers.
In its second year of providing passenger flights, the airport recorded 840,000 passengers. However, that number declined to 463,236 the following year due to the temporary relocation of flights during the completion of the runway refurbishment program at Dubai International. In 2017, Al-Maktoum International welcomed more than 900,000 passengers and handled 1 million tons of freight, which represented an 8.3 percent increase from the year before. It was serviced by four passenger airlines operating more than 70 flights per week to 18 international destinations, as well as 23 scheduled cargo operators flying to upwards of 68 destinations.
Expansion Efforts
Dubai Airports, which oversees the two airline operations in the city, announced the extensive expansion of Al-Maktoum International in 2014 with original estimates of increasing its annual passenger capacity to 120 million. However, in the following year, the executive chairman of the Dubai Aviation City Corporation, Khalifa Al Zaffin, announced the airport's capacity will be 130 million after expansion efforts wrap up in the first quarter of 2022. That estimate has since moved to more than 200 million, depending on whom you ask.
"It's a very aggressive time scale … but I think that we have a track record here of doing remarkable things in a remarkably challenging time frame," said Paul Griffiths, chief executive of Dubai Airports.
The entire two-phase expansion project will cost an estimated $32 billion and cover 56 square kilometers. By the time that expansion efforts are finished in 2022, it will boast five parallel runways, as well as enough gates to support hundreds of wide-body planes.
Innovative Tech
Along with the goal of becoming the world's busiest airport, Al-Maktoum International is being constructed as a next-generation airport with a multitude of innovative technologies. For starters, it will include biometrics and smart passenger tracking capabilities such as palm and iris scanning, as well as radio-frequency identification boarding passes. These measures will help to facilitate shorter passenger wait times at terminals, while maintaining a high level of security. There will also be shorter walking distances between terminals and concourse facilities.
Additionally, passengers will experience seamless transitions to different areas of the airport through a reduction in baggage processes and a revamped baggage handling system that will allow them to drop their bags off as early as possible.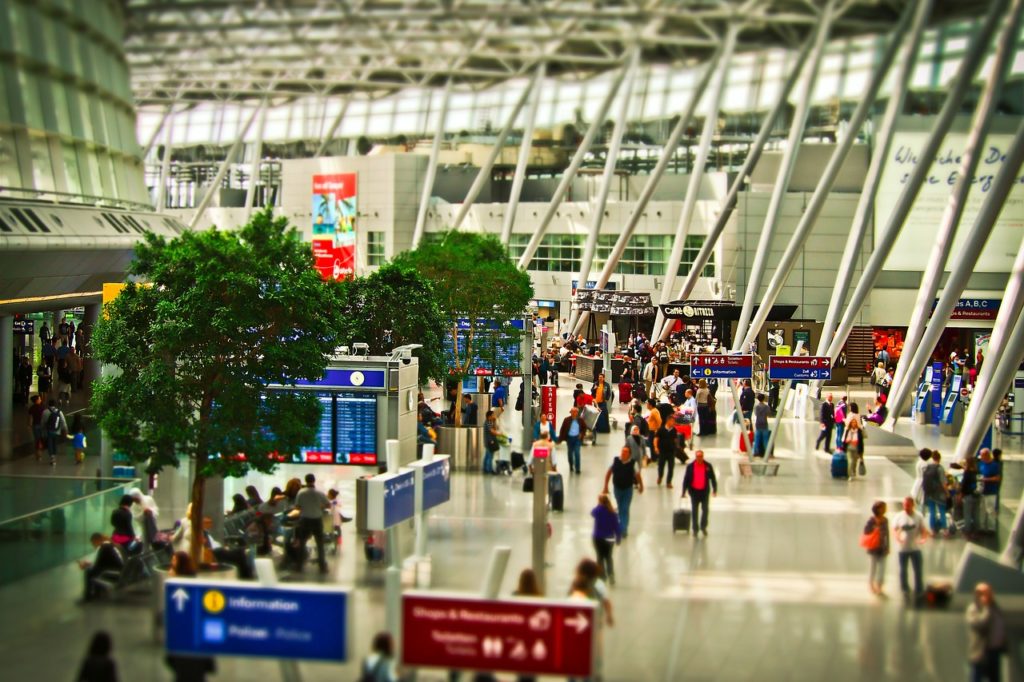 Travel Hub for Dubai South
As ambitious as the Al-Maktoum International project is, it's merely part of a larger one to build a flagship urban center to foster tourism and economic growth. The location in which the airport is being constructed will be part of Dubai South, previously known as Dubai World Central, for which plans were announced by the government of Dubai in 2006.
Accessible from downtown Dubai and Abu Dhabi, the 145-square-kilometer city is being built based on the vision of Mohammed bin Rashid Al Maktoum, the vice president of the United Arab Emirates and ruler of Dubai, with five goals reflected in the Dubai Plan 2021. Among other objectives, "The City of You," as it has been dubbed, is being planned as a smart and sustainable city of creative and empowered people. It will feature a business park and commercial district capable of supporting all types of companies as well as a humanitarian district, golf district, and residential district designed to serve as home to upwards of 1 million people. Additionally, Dubai South will be the host site of the World Expo 2020.