Infrastructure investment in the Middle East has surged in recent years as governments target social and economic growth. According to IQPC Middle East, the combined value of ongoing projects in the region was $1.14 trillion as of April 2019. These projects and key stakeholders were the focus at the IQPC's inaugural Mega City Infrastructure Week, which took place in Dubai from April 16 to 17.
The United Arab Emirates (UAE) and Saudi Arabia, meanwhile, both rank among the top 12 global markets in regard to infrastructure investment. Saudi Arabia, as part of its Vision 2030 agenda, is seeking to diversify its economy and lessen its reliance on oil via mega projects such as Neom, Qiddiya entertainment city, Riyadh Metro, and the Dumat Al Jandal wind power plant.
Below are four recent infrastructure contracts signed in the Middle East and a breakdown of those respective projects:
1. China and UAE Firms Awarded Etihad Rail Contracts
On June 27, Etihad Rail, which is overseeing the development of a 1,200km federal railway network in the UAE, awarded $1.2 billion worth of construction contracts to China Railway Construction Company (CRCC) and General Contracting Company (GTGC). CRCC and GTGC will complete 216km and 94km, respectively, of a 605km line connecting the Port of Fujairah to Ghuweifat. Previous work was completed by a consortium involving SK Engineering and Construction and China State Construction Engineering Corporation Middle East.
Once completed, the national network will offer freight and passenger transport services and connect Dubai, Abu Dhabi, and Khalifa Industrial City as well as Khalifa Port and Jebel Ali Port. The first phase, initiated in 2013 and backed by a $1.28 billion investment, was undertaken for the purpose of transporting granulated sulphur. Etihad Rail, according to Reuters, is expected to seek upward of $2 billion from banks to support the second phase in the railway's expansion.
2. UK Pavilion of Expo 2020 Dubai
From October 2020 to April 2021, Expo 2020 Dubai is expected to attract as many as 25 million visitors. Focusing on possibilities for future innovation, the expo will offer interactive exhibitions, engaging panel discussions, and live shows at hundreds of different pavilions that will be constructed specifically for the occasion.
A total of 190 countries will participate and have their own uniquely-designed pavilions. Contracts for the UK Pavilion, naturally, were awarded primarily to UK-based companies, while construction began in June 2019.
With a design inspired by one of the late Stephen Hawking's final projects, the UK Pavilion will feature a 20-meter-high cone-shaped facility comprised of rows of protruding slats extending outward to create a circular facade. The design was carried out by Es Devlin OBE and Avantgarde, while Pico and McLaren Construction will build the pavilion.
"The UAE and the UK have long enjoyed a robust, mutually beneficial relationship that will continue to thrive as we forge partnerships across all sectors, from trade and tourism to art, technology, and education," commented Expo 2020 Dubai Bureau Director General and UAE Minister of State for International Cooperation HE Reem Al Hashimy. "Expo 2020 Dubai will provide a strong platform to expand those partnerships, and we congratulate the UK as it begins the construction of this dramatic, artistic, AI-inspired pavilion."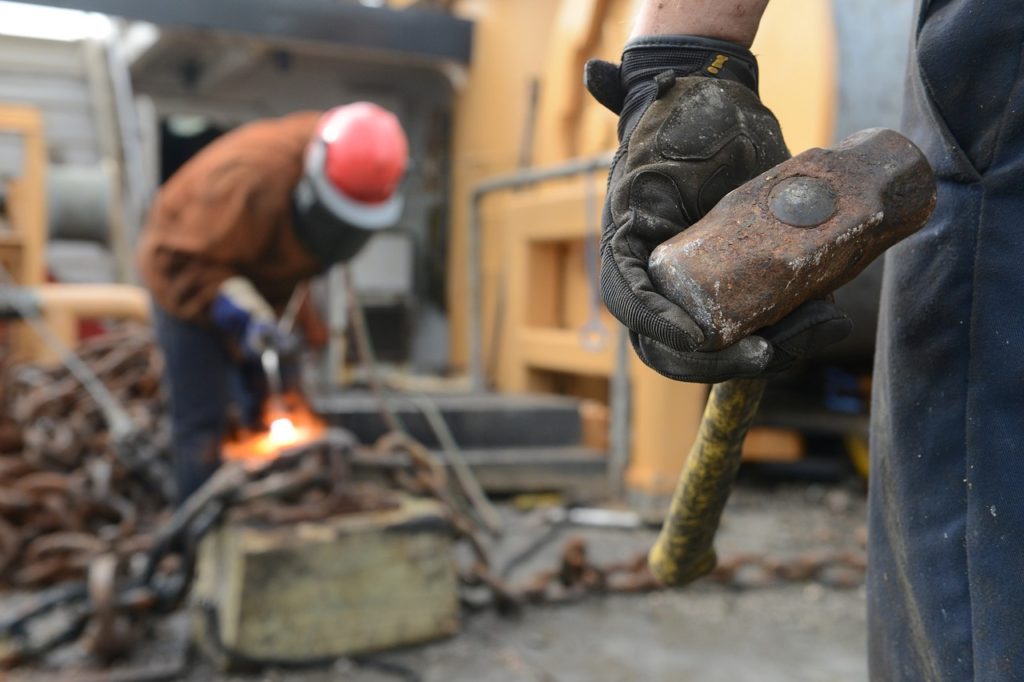 3. French Company Awarded Contract for Ain Dubai Observation Wheel
The High Roller in Las Vegas (167m) and the London Eye in the UK (135m) will soon be the second- and third-tallest observation wheels in the world, respectively. This is because Meraas is developing a 250m wheel on Dubai's Bluewaters Island in anticipation of Expo 2020 Dubai. The structure involves 9,000 tonnes of steel and is supported by 126m-high legs.
In June 2019, Hyundai Engineering & Construction completed the aforementioned initial work that also included eight 450-tonne temporary spokes. Thereafter, it awarded a subcontract believed to be worth between $50 and $100 million to the French company Poma Group for, among other tasks, the delivery of 48 high-tech capsules. Poma Group also delivered capsules for the High Roller and the London Eye.
4. Sheikh Zayed Highway Expansion in Bahrain
As part of the Gulf Development Programme, Bahrain, via funding from the Abu Dhabi Fund for Development, is undertaking an expansion project involving the Sheikh Zayed Highway. Phase 1 of the project launched in June following a signing ceremony that involved Issam bin Abdullah Khalaf, Bahrain's Minister of Works, Municipal Affairs, and Urban Planning, and Sheikh Sultan bin Hamadan bin Zayed Al Nahyan, UAE Ambassador to Bahrain.
This first phase will include street renovation activities and additional lanes so that there are three in each direction. New traffic signs and lights, in addition to rainwater drainage systems and roadblocks, will also be installed.
Once completed, the highway will have a daily road capacity of 80,000 vehicles compared to its current capacity of 50,000. Abdullah Khalaf spoke to the importance of the project, noting it was a central component of Bahrain's road network improvement efforts. He added that it would also alleviate traffic congestion in the nearby Salmabad and Aley regions.