Public transportation is an important part of infrastructure development in the Middle East. In addition, it is a relatively new concept in the region, where the first mass transit system started in Dubai in 2009.
Historically, many countries have focused on road development rather than subways or trains. The Middle East has a rapidly growing population, more than half of whom live in urban centers.
Regional governments are quickly realizing that public transit is a clear answer to many urban challenges. Not only will public transportation reduce the high number of road deaths and the high carbon emissions from cars, but it will allow for the increasing population to spread outside of the cities and reduce congestion.
Public transportation development attracts brilliant minds and innovative ideas. Along with Saudi Arabia, the United Arab Emirates (UAE) is leading the way in this industry. Here are some of the most impressive futuristic public transit projects in the country today:
Driverless Shuttles
The Roads and Transport Authority (RTA) of the UAE has been implementing trials for driverless shuttles in high-traffic areas of Dubai. This includes shopping centers, tourist attractions, and other transportation hubs within the urban area.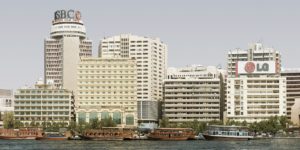 Early phases of the trials were held at the city's world trade center and a major boulevard, as well as a residential and retail area called Business Bay.
While the shuttles can travel as fast as 13 miles an hour, most travel time will be spent at speeds of between 6 and 12 miles per hour. The vehicle has six seats and standing room for six additional people.
The shuttle, which is equipped with a number of safety features, is said to be aware of objects within 130 feet. When an object gets closer than 6 feet to the vehicle, it will automatically slow down. The shuttle also has four-directional GPS and the ability to stop entirely if an object is too close.
The shuttle's technology allows it to operate for up to nine hours straight without a charge. However, due to the necessity for air conditioning in Dubai's hot climate, the vehicle only operated for four hours at a time during the trial.
The trials for this driverless shuttle technology have been well-received among the public.
Flying Cars
The UAE RTA is also experimenting with flying cars in Dubai. The RTA has partnered with Ehang, a drone technology company based in China, to develop and test the Ehang 184. The autonomous aerial vehicle (AAV) has eight propellers and can carry a person across predetermined paths from one point to another, as selected by the rider from a touch screen in front of the passenger's seat. All flights will be overseen by a control center on the ground.
While the Ehang 184 will have the ability to travel at speeds of up to 99 miles an hour, it will generally travel at around 62 miles an hour. The vehicle's battery can charge within an hour or two, and a fully-charged Ehang 184 can travel for 30 minutes continuously. The AAV, which weighs almost 800 pounds with a passenger in tow, will fly at a maximum altitude of 3,000 feet. The RTA hopes to have the Ehang 184 in operation by this summer.
Masdar City Personal Rapid Transit System
In Abu Dhabi, the concept of driverless shuttle system is not new. The city piloted its Personal Rapid Transit (PRT) fleet in 2010 in Masdar City. PRT cars travel at about 24 miles per hour and cover a distance of just under a mile. Riders can catch the PRT vehicles at two stations, one at a car park and another at a local institute. The system features 10 PRT cars that operate for nine hours daily.
Since its inception, the PRT system has carried over 2 million passengers more than 560,000 miles. Estimates show that in replacing the traffic typically created by cars, PRT vehicles have significantly reduced the city's carbon emissions.
Automated Buses
The Dutch transportation company 2getthere, which also built the PRT system in Masdar City, has won a contract for a driverless bus program connecting the Bluewaters Island of Dubai to the city's subway system.
The system will feature 25 driverless buses, called Group Rapid Transit (GRT) vehicles. Each GRT vehicle, which will have a capacity for up to 24 passengers, will travel about a mile and a half between multiple stations on Bluewaters Island and the Nakheel Harbor and Tower metro stop. Travel time will be just over four minutes.
A Bright Transit Future
These high-tech developments will only serve their purpose if the public accepts them. The challenge remains to make automated public transportation a practical and comfortable option for the community, as many in the Middle East are accustomed to using their personal vehicles. As technology continues to improve, it is likely we will see an increase in the use and acceptance of automated public transportation.