The United Arab Emirates (UAE) consistently scores high in a variety of measures relating to tourism and is actively working to improve its status as a tourist destination even further. Numbeo recently ranked Abu Dhabi and Dubai first and 11th, respectively, on its list of the world's safest cities, while Dubai finished first ahead of Singapore, London, and New York in a Digital City Index compiled by Bloom Consulting—it topped these three other global cities in online searches related to tourism. Meanwhile, the UAE as a whole recently ranked fifth on a list of the top 25 destinations for travelers from the Middle East and North Africa (MENA) region. Tourism is an economic priority in the two most prominent emirates, and both are investing heavily in promising tourism-related infrastructure.
Development of Sahel Al Emarat
The 30-kilometer Sahel Al Emarat beachfront between Dubai and Abu Dhabi is already a natural wonder, but the Abu Dhabi development firm Imkan intends on transforming the area, also known as the Riviera of the Emirates, into an exclusive tourist destination with unmatched cultural and leisure experiences. It will also serve as a second-home destination for foreigners and UAE citizens alike.
While the official details of the project won't be unveiled until early October at Dubai's Cityscape Global 2018, Imkan board member Jassim Alseddiqi offered his vision of the project in September when he spoke to ConstructionWeekOnline.com: "Rivieras can strongly impact economic dynamics through creating multiple jobs, attracting home owners seeking an exceptional lifestyle, and presenting both local and international investors with an attractive second-home destination."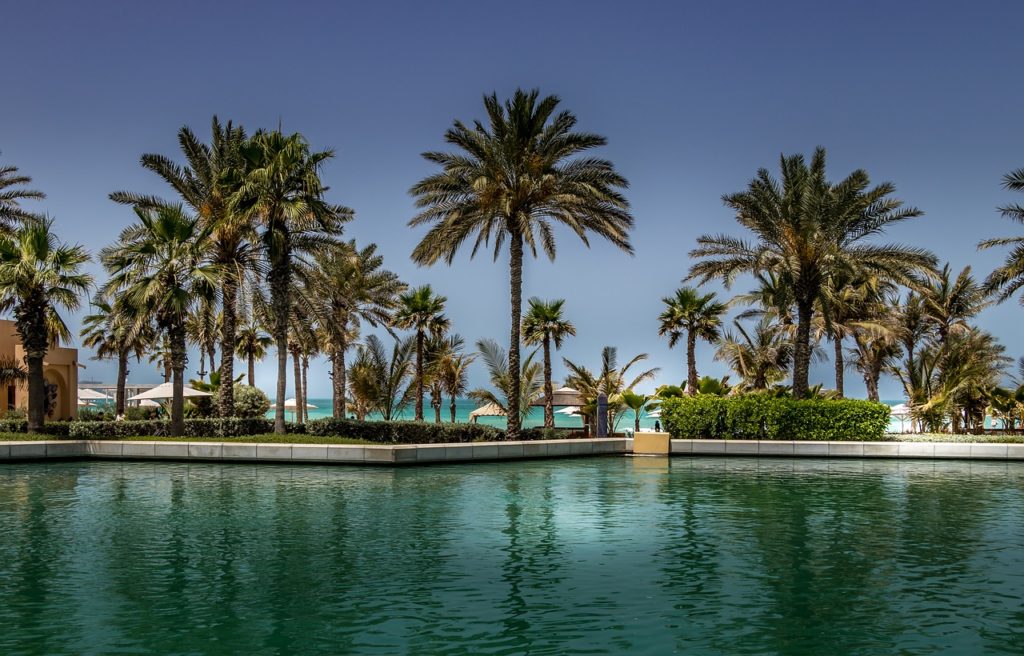 Dubai's Status as a Maritime Tourism Hub
Dubai is already regarded as one of the world's top winter cruise destinations, and that status will be cemented upon the completion of upgrades to the T3 terminal at the Hamdan bin Mohammed Cruise Terminal at Mina Rashid. Once finished, it will be the largest terminal in the world with the capacity to handle as many as 18,000 passengers per day.
The upgrades to the terminal aren't just wishful thinking in regard to tourism; they will meet a need in an ever-growing industry. Following the terminal's opening in 2013-14, Dubai welcomed 320,000 cruise tourists, but that number has grown considerably to 625,000 in the 2016-17 season. More than 800,000 are expected during the 2019-20 season. Moreover, the Dubai Corporation for Tourism and Commerce Marketing hopes to draw 1 million cruise tourists by the end of 2021.
Plans for Al Marmoom Reserve
In January 2018, Dubai announced the establishment of a 40-hectare conservation reserve that comprises 10 percent of the emirate's total land area. Now the Dubai Electricity and Water Authority (DEWA) is hoping to turn the reserve into the country's largest and most popular environmental tourist destination. The land is already home to more than 204 different species of native birds and 158 species of migratory birds, as well as 10 kilometers of lakes. In September, DEWA announced the completion of six energy-related projects.
In addition to the installation of rooftop solar panels along the reserve's facilities and electric vehicle charging stations, DEWA also installed numerous smart poles with smart environmental sensors, interactive screens, and Wi-Fi. Moreover, the Mohammed bin Rashid Al Maktoum Solar Park at the Al Marmoom Reserve is the world's largest single-site solar project and is expected to have a capacity of 5,000 megawatts by 2030.
Adding to its projected status as a top environmental tourist destination is the fact that Al Marmoom Reserve will boast multiple bird and animal observation platforms, areas for yoga, and an outdoor theater. It's also expected to host 20 annual sporting events by 2030 and include a 100-kilometer network of cycling tracks. "Our goal is to provide a fertile and robust environment for plants, a natural reserve for animals, and an important destination for tourists and families," noted Vice President and Ruler of Dubai Sheikh Mohammed bin Rashid in January.
Opening of Warner Bros. Abu Dhabi
Abu Dhabi's Yas Island improved its status as a popular tourism destination in July with the opening of the 1.65-million-square-foot Warner Bros. Abu Dhabi indoor theme park. The park, which recently appeared on Time magazine's list of the world's greatest places of 2018, features six immersive and interactive lands, including the Looney Tunes-inspired Cartoon Junction and DC's Gotham City. It also has 29 rides, one of which offers visitors the opportunity to fly in a Batwing vehicle. The billion-dollar park only took two years to build.
Officials anticipate the opening of Warner Bros. Abu Dhabi will help increase Yas Island's annual visitors to 30 million in 2018. It welcomed 25 million visitors in 2015. Tourism expert Gaurav Sinha is convinced the indoor theme park will help drive tourism to the UAE, according to his comments in The National: "It's one thing to invest money in creating landmarks, per se, and another thing to bring trusted operators like Warner Bros into markets like Abu Dhabi. The long-term strategy is yielding dividends."