While the term "infrastructure" often brings to mind roads and bridges, it actually refers to a broad category that includes a number of subgroups. One might be surprised to learn that malls—all shopping centers and stores, in fact—qualify as infrastructure in the category of commercial facilities.
The Middle East and North Africa (MENA) region has many large and well-equipped shopping centers. Following are six of the most notable ones.
Mall of Egypt
The Mall of Egypt is a brand-new, two-story shopping complex in Cairo, Egypt. The Mall of Egypt redefines what one might consider a mall, as it is much more than a collection of stores. Consisting of 1.7 million square feet of space accommodating 350 stores, the mall features a 21-screen movie theater, an arcade, and over 6,000 parking spots.
Perhaps the most impressive aspect of the facility is the indoor snow park and ski slope, the first of its kind anywhere on the continent of Africa. The project alone cost over $700 million.
Majid Al Futtaim (Maf), the group behind the development of the Mall of Egypt, is a recognized leader in the construction of retail and commercial spaces. The conglomerate, which started in 1992, currently owns 19 shopping malls spread out across the world.
Mall of the Emirates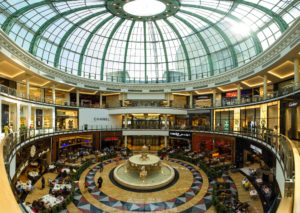 Another Maf project, Mall of the Emirates (MOTE) opened in 2005 and has undergone a number of renovations and improvements since then. Located in Dubai's Al Barsha district, the mall cost more than $200 billion to build and was the city's largest when it opened, although that title has since been taken by The Dubai Mall.
Like the Mall of Egypt, MOTE has a snow park and ski slope called Ski Dubai, as well as two 5-star hotels. Upon its official opening, MOTE had more than 6 million square feet of gross area.
Since it began welcoming customers, MOTE has undergone several expansions. The first of these was the construction of the Fashion Dome, which provided more than 10,000 square meters of additional leasable space and over 750 new parking spots.
In 2015, MOTE underwent another multi-phase expansion that provided mall visitors with an additional 36,000 square feet of retail space, a 24-screen cinema that included the first IMAX in the Middle East, and 12 new restaurants. A new parking deck with 1,300 spaces was built to accommodate the increase in visitors sure to result from the expansion.
Mall of Qatar
In preparation for the 2022 World FIFA Cup, Qatar has witnessed a slew of infrastructure developments meant to ensure that the wave of visiting soccer fans will be comfortable and astounded. Located in Qatar's Al Rayyan district, the Mall of Qatar is the largest in the country. One of the World Cup stadiums will be located just next door to the three-story mall, which opened in 2016.
With over 500 stores spread across half-a-million square meters, the Mall of Qatar is another impressive project in Middle Eastern shopping infrastructure. However, even more impressive than the retail area is the live entertainment center, MOQLive, located within the mall. MOQLive provides concerts and other types of entertainment throughout the year in the Oasis, a rotating stage encapsulated in a glass dome that stretches higher than 90 feet.
Mall of Oman

A brand-new project by Maf, the Mall of Oman is currently under construction in the city of Bawshar. The project will span 13.7 hectares and provide shoppers with 350 different retail stores from which to choose.
The Mall of Oman will bring several retail names to Oman for the first time, including VOX cinemas and Abercrombie and Fitch. A parking area that stretches over 500,000 square feet provides space for over 5,000 vehicles. Like so many of Maf's other projects, the Mall of Oman will include a snow park. The mall is just one part of a $1.3 billion investment that Maf has made in the country of Oman.
Isfahan City Center
Iran's capital city of Tehran has witnessed a boom in mall construction in recent years. The Isfahan City Center is an excellent example of that new trend in infrastructure development.
Built by entrepreneur Masoud Sarrami, the Ifsahan City Center stretches across 6.5 million square feet. The center is much more than just a place to shop, as it includes a five-star hotel, a university, a wedding center, a financial center, and even an amusement park complete with rides. Shoppers have a choice of over 700 stores, and parents can bring their children to a covered play area spanning over 100,000 square feet.
The Dubai Mall
No conversation about MENA-region malls would be complete without a mention of The Dubai Mall, the world's largest mall by total area. The mall, which opened in 2008, has an indoor area that covers nearly 6 million square feet and offers more than 1,200 stores and 200 restaurants. More than 75 million shoppers entered the doors of The Dubai Mall in 2014.
Not only does this massive mall feature an ice rink, amusement park, and a 22-screen movie theater, but it is also home to an underwater zoo and an aquarium.