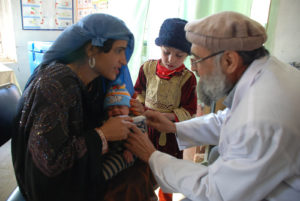 Healthcare is a major concern in Afghanistan, especially for women and children. According to UNICEF, Afghanistan ranks 18th in mortality for children under the age of 5, with 36,000 neonatal deaths (children that died within 28 days of birth) reported in 2015 alone. Afghans also suffer from frequent epidemic outbreaks of illnesses like malaria, measles, and cholera. However, better access to healthcare could easily eliminate many of these deadly diseases.
A long era of conflict in the country has contributed to a lack of nutritious food, dysfunctional and broken-down hospital facilities, and a stunted growth in the number of medically trained professionals. The lack of women in the medical field is also a significant barrier to women obtaining care for themselves and their children.
The Bayat Foundation's Commitment
The Bayat Foundation has made these healthcare issues a central part of the organization's philanthropic mission. As such, the Foundation has constructed new maternity hospitals all across Afghanistan. It has also joined in numerous partnerships to improve the overall healthcare conditions in Afghanistan.
The following are some of the Bayat Foundation's most impactful healthcare contributions:
Malali Maternity Hospital
In 2015, the Bayat Foundation provided the funds for an expansion of Afghanistan's largest maternity hospital, the Malali Maternity Hospital, where providers deliver nearly 800 babies each week. The primary wing of the hospital has room for more than 200 maternity patients, and Malali is the only hospital in the country that is equipped to treat women with obstetric fistula, a dangerous and isolating condition that impacts four in every 1,000 mothers in Afghanistan.
The Bayat Foundation also donated important medical equipment to Malali. Among the many useful items were wheelchairs, baby beds, an ECG machine, and delivery tables.
Indira Gandhi Hospital
Funds from the Bayat Foundation helped construct a new ward at Indira Gandhi Hospital, also located in Kabul. The new ward is comprised of two units: a children's intensive care unit (ICU) and a children's cardiac unit (CCU).
The new ward has several features that are entirely new to the Afghan healthcare system. These include an updated system for tracking patient vitals, sterile areas for equipment storage, and clean, contemporary restrooms—all of which will contribute to a faster and more complete recovery for young patients.
Rabea Balkhi Hospital
The Bayat Foundation helped fund the reconstruction of the surgical maternity ward at Rabea Balkhi Hospital in Kabul. Though this hospital is located in the country's capital, a survey completed in 2005 showed that many of the patients at the hospital came from surrounding areas and traveled for up to five hours to obtain care.
The Bayat Foundation's contribution provided the hospital with necessary, modern medical equipment that will save the lives of expecting mothers and provide them with an easy recovery. Additionally, the Foundation's donation enabled the hospital to obtain surgical tools and needed medicines.
Wardak Province Hospitals
In 2011, the Bayat Foundation opened two maternity hospitals, the Bibi Khairi Gul Hospital in Hessa Dowom and the Shirin Taj Hospital in Tagaab Village, in Afghanistan's underserved Wardak Province. Both are modern, single-story, 30-bed facilities that feature a full electrical system and separate rooms for operating, delivery, and recovery, as well as a doctor's office and pharmacy. Construction of each hospital took more than one year to complete.
Dental Institute Donations
The Bayat Foundation has also made considerable contributions to dental care in Afghanistan. A recent donation to Kabul's Medical Dental Institute enabled the facility to purchase vital educational equipment such as a dental chair, a skeleton, oxygen machines, and several microscopes.
Partnership with Starkey Hearing Foundation
The Bayat Foundation has participated in three joint missions with the Starkey Hearing Foundation over the past few years. These missions have helped to address hearing loss in thousands of Afghan citizens by providing them with hearing exams, ear and auditory system cleanings, and hearing aid fittings.
Medical University Ambulance Donations
The Bayat Foundation has demonstrated a passion not only for addressing the immediate healthcare needs of the Afghan community, but also for preparing a new generation of medical professionals to care for their communities. In 2016, the organization donated a brand-new, modern ambulance to Kabul Medical University. The ambulance will help the university's Ali-Abad Teaching Hospital train future doctors and emergency care providers.
The condition of healthcare in Afghanistan is steadily improving with the help of these projects and others like them. With the continued participation of concerned organizations like the Bayat Foundation, the Afghan healthcare system will soon be able to provide all citizens with excellent care.