Saudi Arabia boasts one of the largest construction sectors in all of the Middle East, with more than $40 billion currently dedicated to infrastructure projects alone. Among these are initiatives to improve and expand existing rail lines, as well as create new ones, to better connect people and move commodities. These projects hold promise for improving the quality of life for citizens of Saudi Arabia and increasing the country's connection to the rest of the world.
The following are four of the many significant infrastructure projects under construction in Saudi Arabia:
Haramain High Speed Rail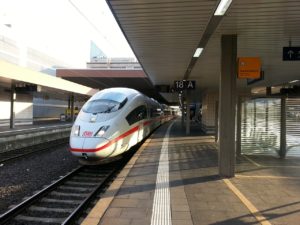 Due to be completed in 2018, the Haramain High Speed Rail train will travel 444 kilometers between Jeddah and the holy cities of Makkah and Madinah. Connecting the latter two cities by train will ease the traffic congestion created by the annual Hajj pilgrimage, which draws an estimated 2 million people to the area every year.
The railway will support 35 trains, each of which can hold as many as 450 travelers and reach speeds up to 320 kilometers per hour. A one-way trip between the two cities will take just under 3 hours, and some estimate that the trains will carry over 160,000 passengers daily during peak holy days. The project, which many expect to cost upwards of $11 billion, will also require the Kingdom to construct more than 100 new bridges.
A Saudi-Arabian and Spanish team of builders called the Al Shoula Group is performing the construction. However, Saudi Arabia's desert has proved unfriendly to the project, with wind and sand delaying its completion multiple times.
Jeddah Metro
In 2014, the Jeddah Metro Company provided the French firm Systra with $74 million to draw up designs for a 149-kilometer metro network in the city of Jeddah. The project consists of four different metro lines, 18 kilometers of which will be underground, beneath the city's center.
The longest line will be the Red Line, which will span 58 kilometers between King Abdullah Stadium and King Road, with 24 stations scattered throughout the route. Connecting the southern part of Jeddah to the city's international airport will be the 33-kilometer Orange Line, which will feature 19 stops.
The project's existing budget is $12 billion, but this figure is expected to increase as the project progresses. Scheduled to be operational in 2022, the new Jeddah metro will hopefully increase the population's use of public transportation. According to some reports, less than 2% of Saudis take advantage of public transportation.
Riyadh Metro
Saudi Arabia's capital city of Riyadh also has a new metro system underway. With a population of more than 6 million people, the city currently operates with no public transportation system.
As early as 2018, Riyadh will open a massive metro network that boasts six different lines, over 100 miles of track, and more than 80 stations. The Saudi government hired Bechtel, a US company, to spearhead the construction of two of the most complex lines that will travel underneath the city center.
The high-tech trains that operate on this metro will be fully air-conditioned and capable of reaching speeds up to 90 miles per hour. Additionally, the system will partially run on solar energy collected by panels positioned at metro stations, which will also be air-conditioned and feature Wi-Fi.
Saudi Landbridge
The Saudi Railways Organization is also working on the Saudi Landbridge, an enormous project that will connect the cities of Riyadh and Jeddah. This $7 billion project will include the creation of over 900 kilometers of new tracks between these cities. It will also feature additional track between the cities of Jubail and Dammam, as well as improvements upon the track between Riyadh and Dammam.
The main benefit of this project is that it will allow better and less expensive transport of goods from Europe, North America, and East Asia to cities across Saudi Arabia. The Saudi Landbridge will primarily carry freight trains, at a rate of 35 to 40 a day, but there are also plans for between five and six daily passenger trains and two passenger stations.
This project will dramatically reduce travel time between several cities. The new stretch of rail will allow for a passenger travel time of about six hours, compared to the 12 hours of bus travel currently required between Riyadh and Jeddah.
North South Railway
One of the largest railway construction projects in the world, the North South Railway will connect Riyadh with Al Haditha, a city in the northwestern corner of the country. With estimated costs topping $3 billion, this project is deeply connected with Saudi Arabia's mineral mining and export industry. The North South Railway will more rapidly connect Al Jalamid, a phosphate mining hub, and Al Azbirah, a center for mining bauxite, to the coastal city of Raz Az Zwar, where these minerals are processed and exported. While still incomplete, this line is already running freight trains, and passenger trains have just started service this year.