Bahrain has high aspirations in regard to its tourism sector and is spending billions of dollars in tourism infrastructure to meet its goals. By 2020, the Middle East country anticipates the sector contributing more than $1 billion to its GDP.
By that time, it will also have spent more than $13 billion on related projects. These include a $1.1 billion upgrade to the Bahrain International Airport as well as a plethora of new retail and luxury hotel developments.
During the first three quarters of 2017, the country's restaurants and hotels segment expanded by 11.4 percent compared to the same period in 2016 and contributed 3.6 percent to its overall GDP growth. Those numbers are expected to increase significantly with further transportation-related infrastructure spending to attract tourists from neighboring Saudi Arabia. Here's what you need to know about some of these developments.
Transportation Infrastructure Investments
Combined annual visitors to Bahrain via airline travel or the King Fahd Causeway from Saudi Arabia have increased in the past two years. However, airport arrivals declined slightly in 2017 to 2.6 million passengers. It is hoped that a $1.1 billion Bahrain International Airport expansion project will significantly increase the national airport's terminal and transport gateways capacity.
The project is expected to be complete by 2019 and will see annual airport capacity increase from 10 million to 14 million passengers. Moreover, Bahrain Airport Company, which operates the facility, anticipates a three-fold increase in direct flight offerings coinciding with the completion of the project and the purchase of seven new Boeing aircraft by Gulf Air.
Built in 1986, the King Fahd Causeway has since been the primary means of transportation for Saudi residents seeking vacation in Bahrain. In 2017, more than 12.7 million inbound visitors traveled on the causeway. This represented an increase of almost 3.9 percent from the year prior.
While the causeway is expected to maintain an integral role in Bahrain's tourism sector, a second option, the King Hamad Causeway, is expected to be completed by 2021. According to government estimates, it could double traffic volumes between the two kingdoms by 2030. The $5 billion project will also see Bahrain connected to the Gulf Cooperation Council (GCC) rail network with a proposed terminus to be constructed in Salmabad.
Increase in Retail Destinations
According to a 2017 survey from the Bahrain Tourism and Exhibitions Authority, nearly one-quarter of all visitors to Bahrain report shopping as the central purpose of their visit. As a result, seven of the country's retail destinations reported an excess of 1 million annual visitors in 2016. The City Centre Bahrain attracted 15 million people. For comparison's sake, Bahrain has a population of 1.4 million.
Recognizing the importance of its retail sector, the government has allocated some of its $13 billion tourism-related infrastructure funding to the development of retail destinations. These include The Avenues Mall and Dilmunia Mall.
The former opened in late 2017 and, by 2020, it will be directly connected to a nearby Hilton Hotel and Residencies. Other in-development destinations include the 265,000-square-meter KFCDF waterfront retail district and the 183,000-square-meter Marassi Galleria mall.
In regard to the hospitality sector, Bahrain, as of June 2017, had more than 190 resorts and hotels, 18 of which were considered five-star hotels by the international real estate agency CBRE. By 2021, CBRE estimates that the sector will have added an additional 5,100 five-star hotel rooms.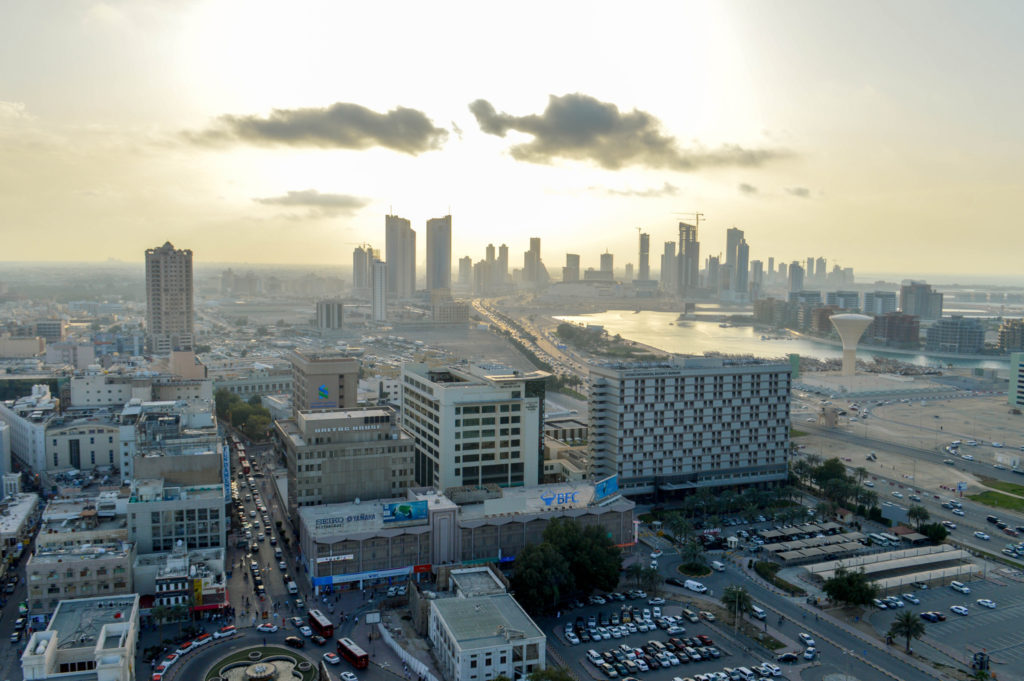 Bahrain Bay
Perhaps one of the most ambitious infrastructure projects in the country is the 432,000-square-meter, $2.5 billion Bahrain Bay development. This project should not only drive tourism but also promote economic growth and prosperity throughout the region.
The island, which will be connected to the mainland by way of causeways, will be populated with residential towers, luxury hotels, parks, and numerous cultural venues. The project has been in development since 2006, but has encountered delays primarily caused by economic challenges as a result of declining oil prices and the GCC crisis.
In November 2017, CEO of the development, Gagan Suri, said that the project was approximately 18 percent complete. It is expected to fully developed by 2030.
Water Warden City
In addition to Bahrain Bay, the country has high hopes for Water Garden City. It expects the development to facilitate an increase in economic and cultural growth by attracting prominent investors.
Located in Seef District alongside a marina and beach, the mixed-use project development is strategically-positioned to serve as a prime tourist destination. It will contain waterfront restaurants and luxury hotels.
Divided into nine neighborhoods with their own unique appeal and features, Water Garden City will also include luxury duplexes and office buildings. Phase 1 of the development project, which included the Marina Promenade dining strip, was nearing completion as of May 2018.