Cargo ports are a vital type of infrastructure because they connect a country to the rest of the world and allow for import and export of cargo via ships.
Container ships are measured by their Twenty Foot Equivalent Units, or TEUs. A ship's TEU indicates how many 6-meter containers it can carry. This standardized unit can also be used to measure the size of a container terminal within a port.
Port Said East, Egypt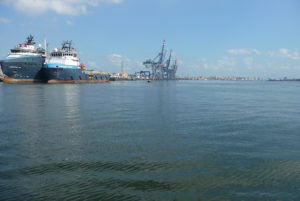 Port Said is a city positioned at the Suez Canal entrance on the Mediterranean Sea.
The eastern port in the city of Port Said is the second-largest port in Egypt. Port Said East, which is more than 10 miles long, can accommodate ships over 500 feet in length. Its strategic location at the mouth of the Suez Canal makes it a hub for international trading.
In 2016, the Suez Canal Authority of Egypt initiated the construction of an access channel to Port Said East. The channel, which cost over $30 million and took approximately 7 months to complete, helped to streamline sea traffic in and around Port Said East.
Salalah Port, Oman
Oman's largest port, the Port of Salalah, is located on the Arabian Sea. In addition to navy and cruise boats, the port can accommodate cargo and container vessels over 500 feet in length. Additional services, such as ship repairs and storage facilities, can be accessed at Salalah Port.
Ownership of Salalah Port is split between three parties: the government of Oman, investors, and APM Terminals. The port, which officially opened for business in 1998 under the name Port of Raysut, is comprised of two terminals: an 11-berth terminal for cargo ships and a 7-berth terminal for container ships.
Continuous infrastructure development is necessary in order for a port to continue to accommodate larger ocean vessels. As technological advances allow for larger ships, the port must provide space for these new boats. Salalah's 5-million TEU container terminal underwent a large expansion that started in 2012.
The construction of a second container terminal added between 3 and 4 million TEU to the port's capacity. The length of the quay wall was also lengthened from about 1.4 miles to over 2 miles. Additionally, two new berths were added, each 59 feet deep and about 1450 feet long.
Port of Khor Fakkan, UAE
The United Arab Emirates are a leader in port activity in the Middle East, and Port Khor Fakkan is one of the UAE's largest and busiest ports.
The port is located in the UAE city of Sharjah on the Indian Ocean. It includes 6 quays stretching over 1.2 miles. The port's total area covers of 700,000 square feet, 450,000 of which is used for storage. Khor Fakkan's container terminal has a storage capacity of over 40,000 TEUs.
Operated by Gulftainer, the Port of Khor Fakkan reached a milestone in 2016 when a 15,000-TEU ship arrived in its waters. This was the largest ship ever to enter the port.
Jeddah Islamic Port, Saudi Arabia
Historically, the city of Jeddah provides access to the Saudi Arabian holy cities of Makkah and Madinah. This strategic location has made it an important gateway, and that theme has carried into modern times. Jeddah is now home to Saudi Arabia's busiest port, the Jeddah Islamic Port.
Constructed in 1976 with just 10 berths, today, the Jeddah Islamic Port spans more than 7 square miles. Each of the port's nearly 60 berths are between 1.5 and 7.5 miles long. The port's three container terminals make up 21 of the port's berths and can accommodate ships as large as 6,500 TEUs.
The port also includes a ship repair yard, large storage area, workshops for maintenance, and a collection of boats to manage buoys and pollution within the port.
Port of Jebel Ali, UAE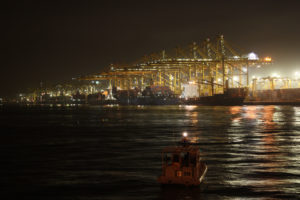 The city of Dubai is home to a large number of commercial ports. Just southwest of the city is the Middle East's largest port, and the world's largest non-natural harbor, Jebel Ali.
More than 15 million containers come through the port every year on behalf of 170 different shipping lines. The area around the port was designated the "Jebel Ali Free Zone" in 1985. More than 7,000 companies are registered within the zone and conduct business there.
Approximately half of all exports that enter Dubai come through one of the two terminals that make up the 5-million-square-foot port. By 2018, the port will be fit to accommodate over 22 million TEU.
Shuwaikh Port, Kuwait
Kuwait's most important port, Shuwaikh Port, is located near Kuwait City on the Persian Gulf.
Though important, the port is relatively small in comparison to the other vital Middle Eastern ports, with 21 berths and a collective 440 hectares of land and water surface. The berths range from just over 22 feet to about 33 feet in depth.
The port includes a power center and water plant that provides electricity and water resources for the citizens of Kuwait City.