Hospitals and medical research centers are the most important kinds of infrastructure for any community. The buildings, both public and private, demonstrate a country's commitment to taking care of its citizens.
In the Middle East, there are a number of ongoing and completed medical projects. Here are a few of the most notable ones.
Jaber Al Ahmad Al Jaber Al Sabah Hospital, Kuwait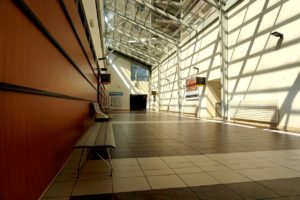 In December 2009, construction began on Jaber Al Ahmad Al Jaber Al Sabah Hospital, which is slated to be a premier medical facility in Kuwait. The construction process, which was expected to last about six years, remains ongoing. The hospital is a joint effort between the American architecture firm Langdon Wilson International and Gulf Consult.
Constructed on over 2 million square feet in the South Surra region of Kuwait, the project will include a primary building and a separate one dedicated to dental services, as well as a large parking garage and space for staff residences.
The hospital's primary building will stretch more than 4 million square feet across 12 stories. The much smaller dental building will be just over 50,000 square feet with a basement, ground, and first floor. The 21,000-square-foot residential structure will be 3 stories tall. The parking garage will have space for 7,000 vehicles.
Operations within the 1,168-bed facility will be under the control of Kuwait's Ministry of Health. In addition to dental care, diagnostics, and treatment, the hospital will be equipped to handle trauma patients and will even have a dedicated space for visiting politicians.
King Abdullah Bin Abdulaziz Security Forces Medical Complex, KSA
The Kingdom of Saudi Arabia is erecting what will ultimately become the largest medical project in the Gulf states, the King Abdullah Bin Abdulaziz Security Forces Medical Complex.
Saudi Arabia's Ministry of the Interior has commissioned the development of two medical facilities in Riyadh and Jeddah, specifically meant to serve the area's security forces. The budget for the combined projects is nearly $7 billion.
Each of the complexes will feature 1,000 beds. Both facilities will comprise almost 4 million square feet of medical property and additional space for employee housing, research, and administration. A Saudi Arabian contractor, ABV Rock Group, was assigned to the project in 2011.
Cleveland Clinic Abu Dhabi
In 2006, the Mubadala Development Company entered into a partnership with the Cleveland Clinic, an American nonprofit medical facility based in Ohio. The partnership resulted in Cleveland Clinic Abu Dhabi, which opened in 2015.
The 364-bed hospital could potentially grow to comprise 490 beds in the future. Five of the hospital floors are dedicated to clinics and three are dedicated to treatment and diagnosis, while the remaining 13 floors are used to treat critical and acute patients. The Cleveland Clinic is equipped to handle 30 different medical conditions at its facility in Abu Dhabi, including conditions affecting the heart, respiratory system, and eyes.
The hospital, which covers 4.5 million square feet and stretches 24 floors above ground, was granted LEED Gold certification from the US Green Building Council's Leadership in Energy and Environmental Design program.
International Medical City, Oman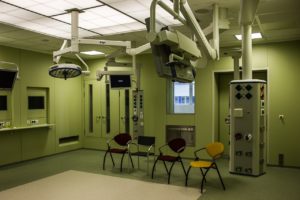 Construction begin in 2014 on International Medical City, a three-phase hospital project in the city of Salalah, Oman. The $1 billion hospital is located on a 300,000-square-foot plot leased from Oman's Ministry of Tourism. The project resulted from a partnership between General Electric, a US-based company, and the Apex Medical Group of Oman.
The first phase of hospital construction, completed in 2016, features a 250-bed hospital, a center for dialysis and transplant procedures, and a center for rehabilitation.
The second phase, which is expected to be completed in 2018, will nearly double the hospital's capacity to 430 beds. In this period, International Medical City will also gain a health care retreat with a four-star hotel and extensive accommodation space for both staff and patients' families. The goal of this project is to make Oman a destination for medical tourism, as these second-phase additions show.
Phase III is slated to result in the completion of the hospital in 2020 with the addition of 100 beds to the main building, as well as the incorporation of a research center, conference center, and colleges for medicine and nursing.
Sidra Medical and Research Center, Qatar
A 400-bed hospital in Doha, Qatar, Sidra Medical and Research Center has had a long and complicated construction timeline.
Completion was originally expected in 2011 and 2012, but was delayed due to several factors. For instance, the underground parking garage was the site of a fire in 2013. In addition, the hospital's original contractors, who had been working on the project since it originated in 2008, were suddenly let go and replaced in 2014. Despite all of these setbacks, the hospital opened in 2016, and there are plans to extend its capacity in the coming years.
The 1.5-million-square-foot facility is split into three separate structures, each of which is dedicated to a different medical specialty. One area will focus on the care of children and the others will concentrate on general adult care and care for women.
The development of the Sidra Medical and Research Center, which cost nearly $8 billion, was funded by the Qatar Foundation, a private nonprofit founded by Qatar's former emir and his second wife.